Monday Night – QUINOA PIZZA BOWLS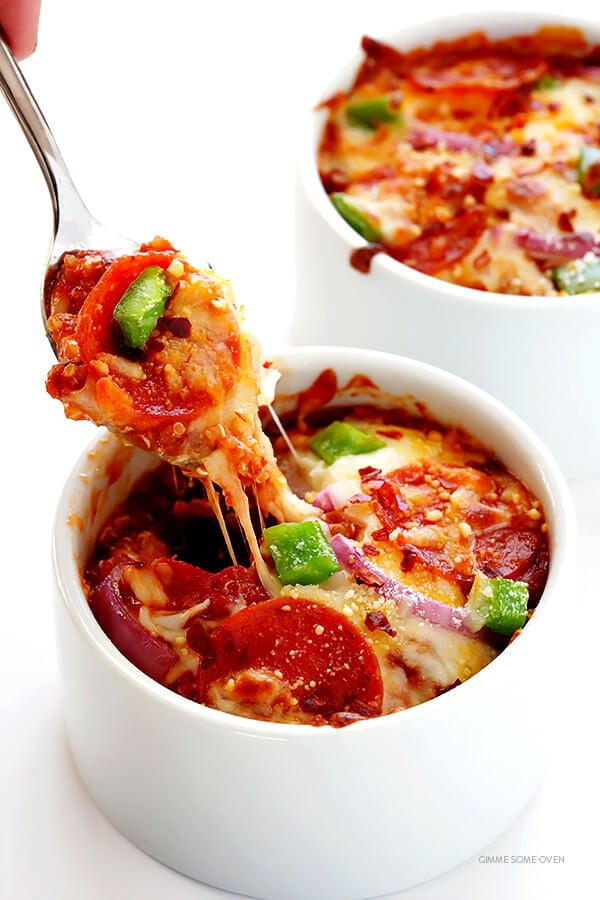 They're everything we all love about a good slice of pizza.  They're made healthier (and also gluten-free) with lots of protein-packed quinoa.  They're 100% easy to customize with all of your favorite pizza ingredients.  They're quick and easy and actually really fun to make.  And oh my goodness — THEY ARE GOOD.
Meet my new favorite Easy Quinoa Pizza Bowls!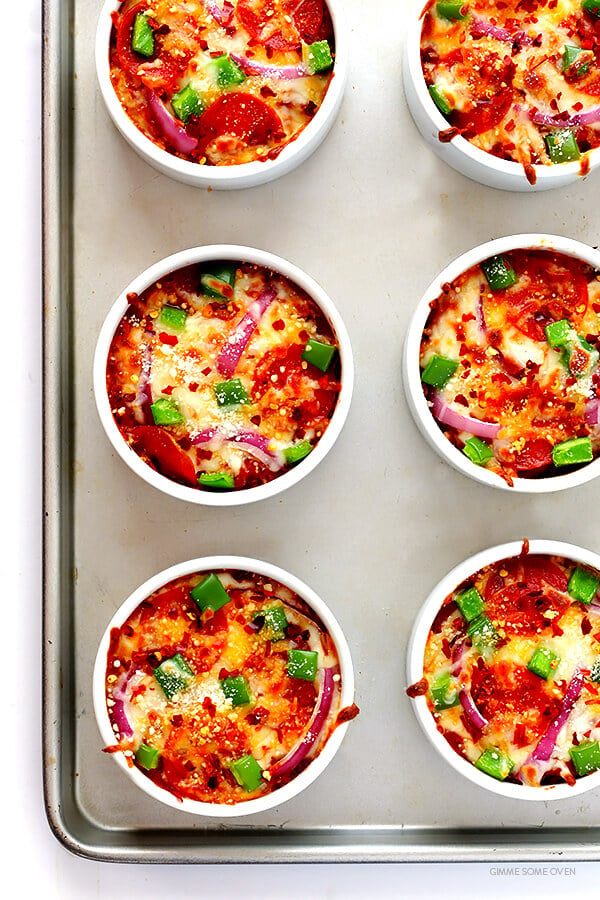 Everyone seems to be obsessed with anything that's served in a bowl lately, and I'll admit I'm no exception.  There's something about digging a spoon into a big bowl of deliciousness that is oh-so-comforting.  (And as a food stylist, I'll also add in that bowls are oh-so-pretty!)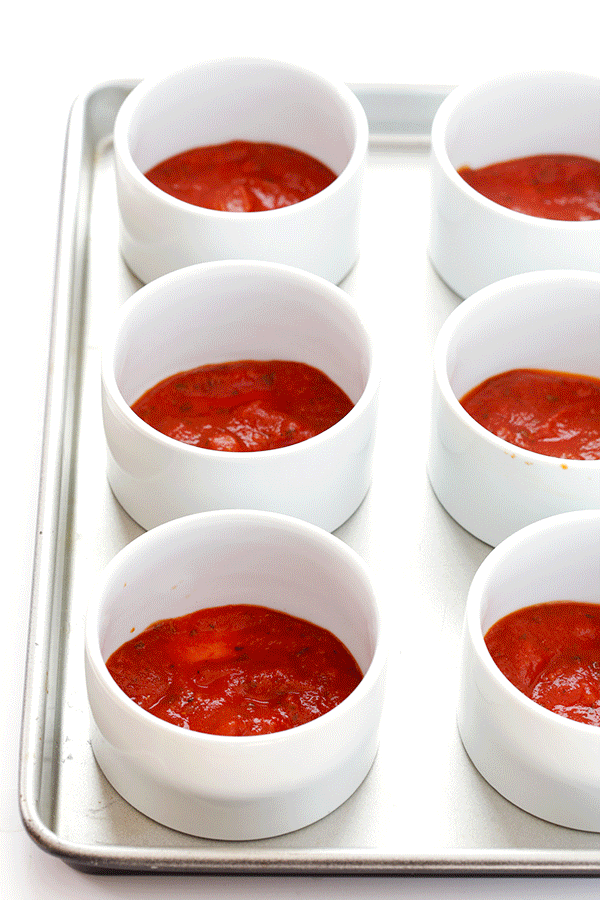 So I layered everything up, then baked them nice and hot until the cheese was bubbly.  Then I finished them under the broiler for another minute or two, until the cheese got nice and golden brown…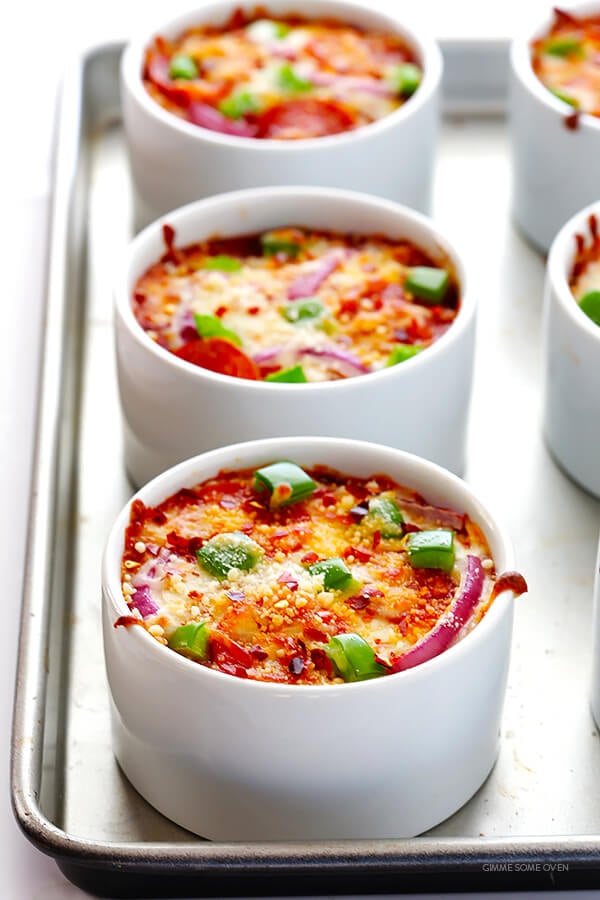 …and then finished them off with a little extra Parmesan and crushed red peppers.  And the result?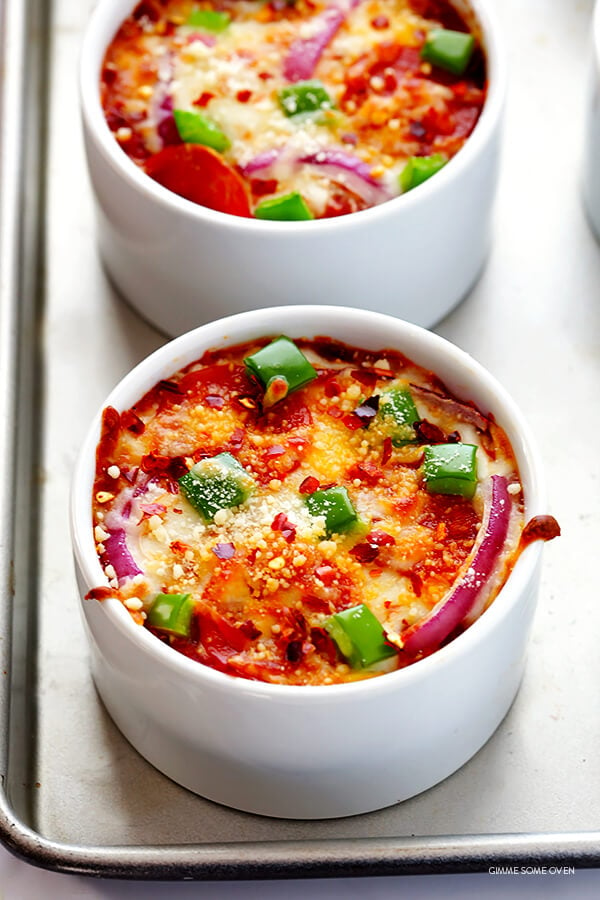 If you're looking for a fun party idea?  Set up a DIY pizza bowl kit and let them all make their own!
Seriously, these are too fun, and too good to pass up.  So grab your favorite pizza toppings and some oven-proof ramekins (or hey, you could even make this one big casserole in a baking pan!), and give this recipe a try soon!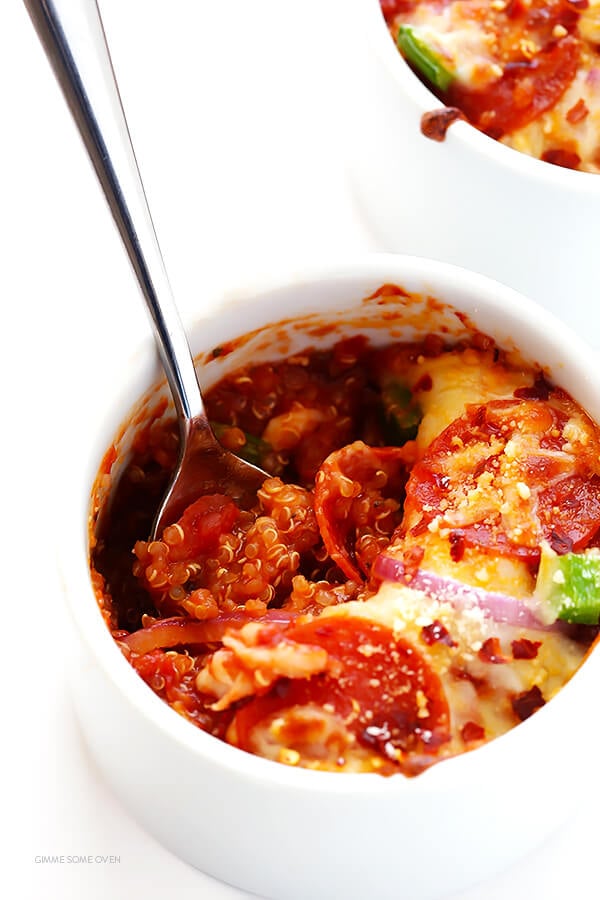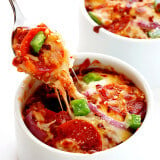 EASY QUINOA PIZZA BOWLS
These Easy Quinoa Pizza Bowls are fun to make and customize with your favorite ingredients, they're full of protein-packed quinoa (that also makes them gluten-free!), and they're TOTALLY delicious!
INGREDIENTS:
1 cup (dry) quinoa
2 cups chicken or vegetable stock
2 (14-ounce) jars pizza sauce
2 cups (8 ounces) shredded Mozzarella cheese
2-3 cups of your favorite pizza toppings (I used pepperonis, diced green peppers, diced button mushrooms, and thinly-sliced red onions, but see other ideas below*)
optional toppings: grated Parmesan cheese, crushed red peppers
DIRECTIONS:
Preheat oven to 425°F.
Cook quinoa in the chicken or vegetable stock according to package instructions.  (Or you can use this tutorial for how to cook quinoa.)
When the quinoa has finished cooking, fluff the quinoa with a fork.  Then stir about 1/2 cup pizza sauce into the quinoa until evenly combined.  Set aside.
Lightly spray 6 large (10-ounce) oven-safe ramekins with cooking spray.  Place the ramekins on a large baking tray.
Spread about 2 Tablespoons of pizza sauce evenly over the bottom of each ramekin.
Layer each with about 1/4 cup of quinoa, and spread with a spoon to flatten.
Layer each evenly with pinch of shredded Mozzarella.
Layer each with a single layer of pizza toppings.
Repeat by layering each with another layer of sauce, quinoa, Mozzarella, pizza toppings, followed by a final layer of Mozzarella.  The ramekins should be full but not overflowing.
Transfer the baking sheet full of ramekins to the oven, and bake for 20 minutes, or until the cheese is melted and the ingredients are heated through.  At this point, you can either remove the pizza bowls from the oven.  Or if you'd like to get the cheese extra golden on top, you can turn the oven to "broil".  Then — keeping a close eye on the cheese so that it does not burn — broil the pizza bowls until the cheese is golden on top.
Remove and sprinkle each pizza bowl with a pinch of Parmesan cheese and crushed red peppers, if desired.  Serve immediately.
*Feel free to swap in your favorite pizza toppings here.  As goes with traditional pizza, just be sure that they are chopped or cooked (if needed, such as for sausage, etc.) if needed before adding them to the pizza bowls.
Source: http://www.delish.com/cooking/menus/g1478/quick-dinner-ideas/?slide=2