HGTV takes Fort Worth with a new twist on an original show. HGTV is the host network for military veterans Andy and Ashley Williams to do their magic! They are HGTV's new sweethearts, and they mean business. Especially, since they are the newest expert home flippers they are featured in an HGTV Flip or Flop spin-off called Flip or Flop Fort Worth. Their show premiered November 2, and will air regularly as new content arises.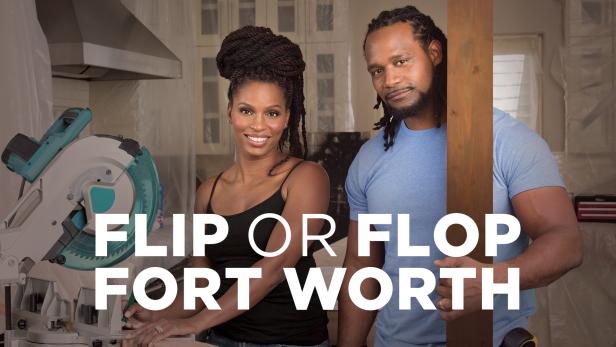 Power Spouse, Power House
The couple of eight years met while deployed in Iraq with the U.S. Army. He served four years and she served five. They have two children: 4-year-old Amina and 5-year-old Ashton. The nine-episode season follows Andy, a real estate agent and home renovation expert, and his wife. Ashley, is a designer. The cameras will focus on them as they buy and sell rundown houses in Fort Worth for profit. In each episode, the pair take the houses down to the studs. While trying to keep any unique or original appeal that might interest buyers. Helping fellow veterans is important to the couple, and they are committed to hiring veterans to assist on their projects. Such as landscape designer Andrew Turner, who helped the Williams's add curb appeal to five houses during the season.
Flip or Flop Fort Worth
Flip or Flop Fort Worth is produced by RTR Media and airs on HGTV. The show started production in June and finished filming its nine episodes in October. The Fort Worth Business Press caught up with the couple for a Q&A about what they've been through so far.  How did you get started with HGTV and what has it been like seeing all your work prior to the Nov. 2 airing finally coming to fruition?
Andy: Getting started on HGTV has been a thrilling experience. We really never anticipated the opportunity to present itself and when it did it was a really, really surreal experience. Then, reviewing and looking at the episodes and seeing, as Ashley would say, the labor of our love has been very poetic. We've worked hard but we're really proud to showcase Fort Worth in a way that represents what we believe the city represents, which is hard work and dignity and problem solving.
Why Fort Worth?
Ashley: I'm originally from Chicago and Andy is the Texan. We originally settled in Dallas and we realized, after having kids, Dallas was a bit too expensive for us. So we moved out to Fort Worth and we were able to kind of cultivate the life we wanted for our kids with the space and we wanted a smaller environment that wasn't as busy and Fort Worth ended up being the place to be. It really did.
Andy: And it should be noted that we've owned real estate in Fort Worth since 2005, so we've always invested in Fort Worth and believed in Fort Worth, and, more importantly, when it came to having kids it made sense for where we wanted to put down roots. And we selected Fort Worth over Dallas because we believed in Fort Worth's growth and community.
How did you two transition from military to home renovators and what was your biggest challenge?
Ashley: Well we kind of had a two-part transition. We transitioned from the military and immediately started contracting, and that was an environment where you were working with the military but you were making a little bit more money. With real estate, it gave us a way to park our money and a way to not lose your principles and always have your money work for you.
When Ashley Met Andy
She says he was already buying real estate when I was in the military and said, "Hey, what do you want to do when you get out?" And he gave me all these different options and … it turns out he was pretty much a big deal in his rental portfolio. And that's when we started just buying and holding and buying and holding. And when we came back for good we decided to try our hand at flipping and see how it goes. It was definitely a trial and error moment but real estate was a way for us to continue to serve and to also save our money without losing our principles.
Andy: I think the other big thing, too, is real estate is a team sport. When you buy a house you want your neighborhoods [to succeed, too]. It's a team effort and it allows us to kind of yield on some of those military principles where we're able to put together a team and accomplish a mission and a goal. But I think the biggest thing Ashley and I take away, which is probably the most addictive asset or aspect of real estate, is the process. When we finish doing a house – we finish doing a design, doing the renovation – there's a lot of pride that we take away, like we've accomplished a mission when we finish a house. That's probably what keeps us in the business, is that pride in the process. And then we want to work with more veterans and bring them in on the process.
When will you know if your show will continue for a second season, and if it does, when will you start filming?
Ashley: We don't know when the show will be picked up. I guess it will depend on HGTV. They will let us know and they would let us know when we start filming as well.
Challenging, Yet Fulfilling
 What has been your favorite and most challenging moments while doing Flip or Flop Fort Worth?
Andy: I think my favorite moment is probably the process. For me personally it's when the drywall is up and Ashley gets to pick out her inspiration. She always brings in a concept of inspiration, whether it's a piece of tile or a piece of artwork. Once I see the inspiration piece, I kind of understand and see where we are in the process. So that's my favorite part because I know that my hard work is done and it's really left up to her.
Least Favorites?
Probably my least favorite is once we've [demolished] the property and we are ready to put up the framing … going through the plumbing and electrical phases because Texas has really major foundation issues. So if you touch the foundation you almost have to mess with the plumbing and the electrical. So that phase line between demo, plumbing and electrical is my least favorite because that's when you really have the most at risk.
Ashley: My least favorite part is when you think you have one thing wrong and it turns out to be three things wrong. I hate uncovering those hidden problems.
How do you work to incorporate veterans into what you do?
Andy: I think it's important for us to [be] inclusive. Ashley and I, our greatest measure of return is not just how much money we make, its inclusion. Being that we've been in their shoes and walked in their footsteps, the project, re-purposing it as a way to include the veterans, is kind of why we do this. It's really important that people understand that we wouldn't be doing this if it wasn't trying to solve a problem; and veteran reintegration is a major issue and we want to continue to allocate our time and energy and efforts toward solving that problem. It's inclusion because that's our community.
Ashley: With the veterans specifically, if we are looking to source out windows or doors or something like that we will look up a veteran-owned company and find out what their capacity is, if they are available or if they can work on our project. We will have them come out and do their bids first and see how we can impact their business.
"We are not in the business of creating new entrepreneurs, we are really in the business of impacting those that have already stepped out and just need that extra push."
In Season One, Andrew, the landscaper, had already been in business for a year, but he hadn't gotten that big break yet. With him coming out and doing five of the projects, he's now to the capacity where he can bring on other veterans to work in his company and he can outsource some of the labor he no longer can do because he's so busy now.
With our impact, we want to spread the wealth. It not about us, it's about giving to each company and they will teach and give to the next company and continue the process.
Andy: Through the entire process of the transaction from start to finish … we do encourage and try to work with veterans or companies with a veteran focus who understand our mission and want to help our trade.